KTLN / KTLK
1280 AM "K-Talk", "Denvers Double K"

Previously was KTLN, at one time a top 40 station, then news/talk... an not-so-common format in the mid-60's.

As KTLN, the station was a keen competitor of KIMN. A good number of top jocks worked ther at one time or another. Johnnie Rowe (John Rook) was offered the program director's job at KIMN by it's former owner Ken Palmer.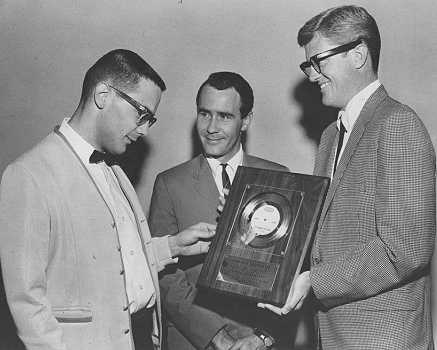 Johnnie Rowe (John Rook), accepting a Gold Record, as KTLN was first to nationally break the tune "Tie Me Kangaroo Down Sport"
When Dick Wheeler, owner of KTLN refused to let Rook out of his contract to go to KIMN, Palmer got Rook hired by KQV-Pittsburgh, opening the door for Rook to go on to WLS, WABC, KFI.
As a News/Talk station, KTLN was instrumental in exposing the Denver Police scandal of the early 60's, with their investigative reporter Bill Gagnon.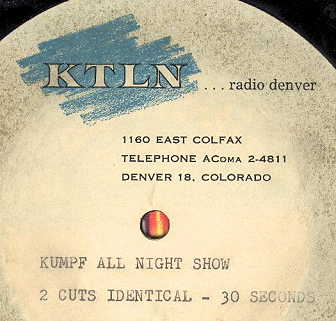 Because of this story KTLN became "The Talk of The Town" and was an all talk format for over five years. They were located at the Heart of Denver Motor Hotel,1160 East Colfax and later moved to 1165 Delaware.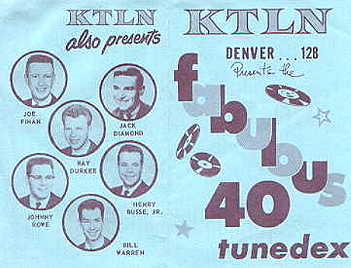 After it's news/talk years, KTLN became KTLK in 1968 and again featured a top-40 format-but with a twist. K-Talk played the music, but added a new feature...using jocks as talk moderators with youth about things important to kids of that time... the announcers becoming known as "The Mod Jocks". Drugs, suicide, politics and religion... the jocks understood the need for kids to have someone to talk to and sometimes the music was merely a break from the talk.


1970 marked the beginning of trouble for KTLK. For the details, and the resolution, click on the thumbnail above.
K-Talk slowly evolved away from serious talk and began featuring their personalities, station promotions and MORE MUSIC. In a major coup, K-Talk landed some recently let go KIMN jocks including the legendary Jay Mack after a 1971 new ownership shakeup at KIMN in an attempt to capture the KIMN magic. However, the magic wasn't to be as the jocks just didn't translate to the K-Talk style.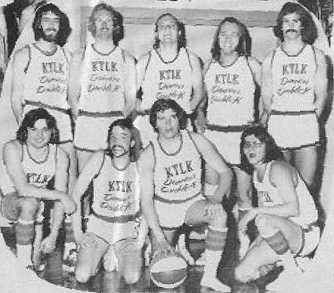 K-Talk was at it's best with it's own lineup. A major import from the east, Jeff Starr campaigned for showers over baths, took endless stabs at the north suburb of "Brooooooooooomfield" and introduces "Starr-power" to Denver. Jack Armstrong made your radio shake. The K-Talk DJ's virtually ignored KIMN as competitors by constantly outdoing KIMN at their own promotions. As KIMN's Ed Greene commented, "KIMN would give away a record-K-Talk would give away two. KIMN would give away two records, K-Talk gave away two records and a tee-shirt". K-Talk's jocks even refused to say Andy Kim's name when he was turning out hit records~ referring to him as Andy "K-Talk". "Eighteen records an hour guaranteed". "K-Talk exclusive!" imbedded in the playing of hot new releases.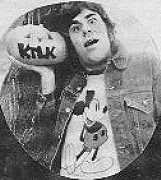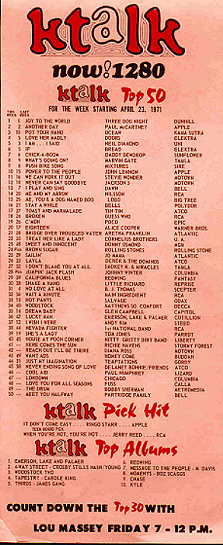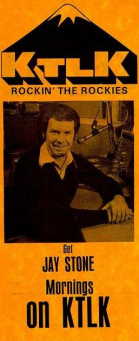 As the shift from talk became complete, the new moniker became "Denvers Double K", although the K-Talk name still appeared from time to time in the early 70's.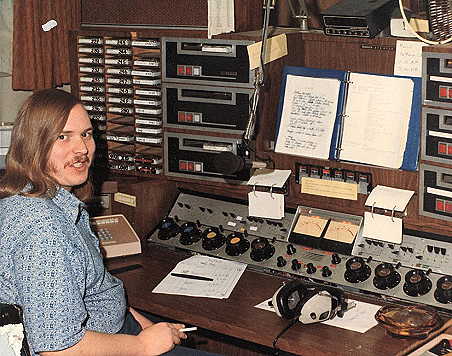 Big Ron O'Brien
In the mid 70's the station apparently saw there was no longer the room in Denver for two Top 40 AM stations and shifted to Dance Music (read: DISCO). KTLK eventually returned to Talk format and the nickname "K-Talk" and is now located at 760 AM, a sister station of longtime newstalk station KOA.
1280 is now the new home of KVOD, Denvers Classical outlet, who was evicted from the FM band in the high money stakes that make up radio today.
Following are a few of the names and faces we remember, along with a few choice collectibles and photos. Do you have any K-Talk stories to share? Names and photos are appreciated, as are any corrections or additions to our brief KTLN/KTLK history.