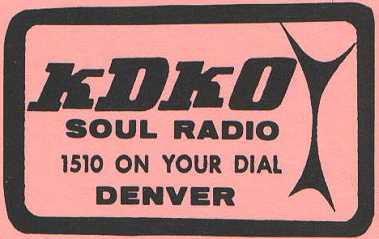 The KDKO Story



History:
Signed on August 22, 1957 as KMOR in Littleton. Owned by Bob Rubin from 1960-65 and operated from above the theater at Woodlawn Shopping Center. Relocated to South Sante Fe after 1965 Platte River Flood destroyed transmitter site. Owned by Dave Segal from 1964-ca.1980. Switched format to Country and Western and call letters to KDKO in 1964. Changed format to R&B and Soul in April of 1967. Other ownership changes took place during the 80's with involvment from Jim "Dr. Daddy-O" Walker. Sold to Peoples Wireless, Inc (inc Jim Walker) for $900,000 in January 1991. Sold to Newspaper Radio Corp (inc Philip Anschutz) May 2002 for $2.7 million. Format changed to News/talk and call letters changed to KNRC.
A first hand perspective by Don Mueller

On April the first, 1967, a new radio station in the Denver area burst upon the scene with the words, "SOUL POWER!" KDKO radio was born, the first station in Colorado serving the black community. 85,000 people now had a radio station that they could call their own!

The station was individually owned by Denver radioman Dave Segal, who previously owned another station that broke the mold, KOSI. That station was Denver's first Top 40 rocker in 1953. Segal later sold KOSI to a young 21 year old, Bill Armstrong. (yep, the same one who was later a U. S. Senator)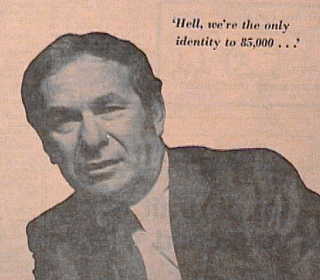 Dave Segal

When KDKO first hit the airwaves, it made a smash in the ratings. It was something new. Even the white community was getting "hip" to this new thing called "Soul Music". It was a time when "Black was Beautiful." At 4 o'clock, you'd hear the announcer say, "It's SOULPOWER with DR. DADDY-O!" And you'd hear in that familiar low voice, "It's the good Doctor here, 'specially for you nanny grannies, ya baby-sitters, midnight ramblers, early morning gamblers, cop-snitchers and wimmin whippers, it's the Daddy-O, live and in living color! The BOSS with the HOT SAUCE!"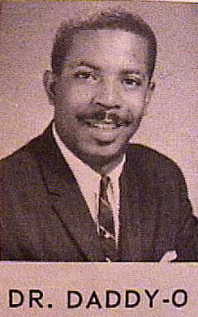 In those early years, you heard the Soul DJs, Cosmo Harris, Dr. Daddy-O, Billy Soul, the Nighthawk and many more. You heard music by James Brown, the Jackson Five, Gladys Knight and Pips, The Supremes, and anything that had the "Motown Sound."
In the Early 70's, it was popular to look "natural" with an "afro." "Where'd you get that 'fro, brother?" You can tell the dates of some of the pictures you see of the personalities just by their haircut!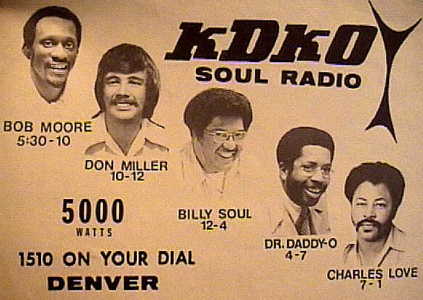 KDKO got very involved in the black community. For example, any nonprofit organization could get a public service announcement on the air. While other stations just had DJ's read the public service announcement off of an index card, KDKO had someone from the organization come down to the studios and voice the announcement themselves! A lot of "kids" came down to do just that, with names like, "Wellington Webb, Hiawatha Davis, Cleo Parker Robinson." I wonder whatever happened to those "kids"? KDKO in those days had their studios south of Littleton, halfway to Castle Rock! It took true grit for people in Northeast Denver to make the half-day's trip to get to the studios on South Sante Fe Drive. (that building for the last two decades currently is used for selling landscaping materials) There's rumors that there are still people in Littleton wandering around looking for the KDKO studios....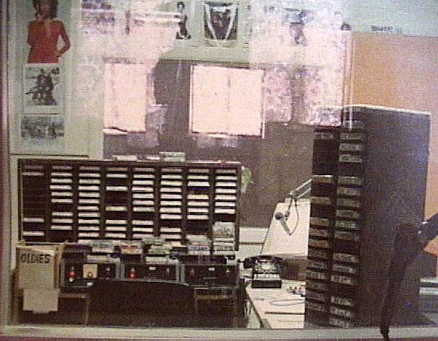 Some people ask, why were there some white DJ's on an "all black" station? Same answer, as if the question was, "Why do some white rock stations sometimes have a black DJ?" If the DJ does a good job on the air, and brings in the ratings, that brings in the money. And as with any job, if you bring in the money, they don't care if you're the "One-eyed-purple-people-eater."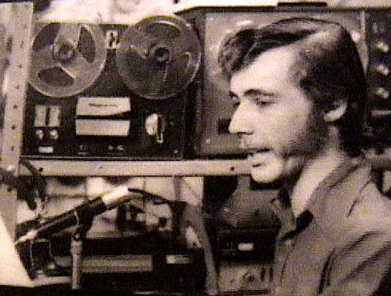 Don Miller

KDKO had many white DJ's in it's early history. Bob Allen, Don Miller, Sandy Scott, Bill Renolds, Steve Ross, even had a Spanish Lady, Pepper Martinez later on, to name just a few.
KDKO cosponsored may concerts, bringing black artists to town. And, when certain personalities were in town, they were hauled to the studios in LIttleton for an interview. A large percentage of these people were black jazz musicians that were playing in town. Les McCann was a frequent visitor. Famous Runner Jesse Owens came by. Blind Pianist George Shearing was there. Many many more.
Let me tell you about one rather memorable event that some people would rather forget! In about 1976, KDKO cosponsored a concert by Marvin Gaye, to be presented at the Denver Coliseum. The evening DJ at KDKO at the time was "Midget," a dapper looking gentleman with a goatee who made jokes about his shorter-than-average stature. He was also hired to do the MC duties at this particular event. The tickets were sold. The coliseum was full of Marvin Gaye fans. "Midget" went onstage and warmed up the crowd with his humor and enthusiasm. He was waiting for the "cue" from the managers at the side of the stage as to when Marvin Gaye was ready to come on. The "cue" wasn't coming. The managers told "Midget," "It seems Marvin Gaye is a little late in arriving, but tell the crowd to stand by, he's coming!" Midget told the crowd, "The great Marvin Gaye is coming! It looks like he's a little late, but he's coming! HE'S COMING!" Marvin didn't come. He never even showed up. It was later learned that at that particular moment, Marvin was taking a nap at his home in Los Angeles. BIG SNAFU. Somebody goofed. Lack of communication somewhere. When the crowd found out Marvin was a "no-show," all "you-know-what" broke loose. The fans trashed the coliseum. "Midget" was to reported to have used some abusive language. The Denver newspapers had a front page story about the thousands of dollars of damage caused to the coliseum. "Midget" was taken off the air for a week on KDKO for his safety. Lawsuits started to fly. Ah yes, it was an unforgettable evening!
In around 1976 KDKO had upped it's power to 5,000 watts at great expense. Going to that power was easy for the transmitter, it was just a matter of flipping a switch. But getting it cleared with the FCC involved hiring engineers to take power readings so that the extra wattage didn't interfere with other signals, a process that cost about a quarter of a million dollars!
Also at about that time, "Disco" music was getting popular, so instead of shouting "Soul Power," the station was calling itself, "KDisKO". But, the station was still serving the black community. By the way, do you know what the letters KDKO originally stood for? "Denver's Knock-Out". Now you know!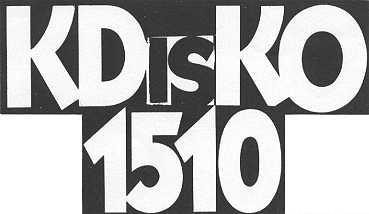 In about 1980 Dave Segal sold the station, and the new owners moved the studios near the Denver Tech Center, keeping the format intact. In about 1986 (some sources say 1989) Jim "Dr. Daddy-O" Walker and some other investors bought KDKO, and moved the studios to 18th and Lawrence, closer to the black community. The station played "Rhythm and Blues," continuing to serve the black community, and "rap songs" were coming into their own. The station also had some "talk-show" and sports programming to add to the mixture.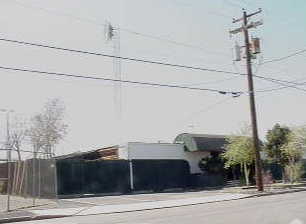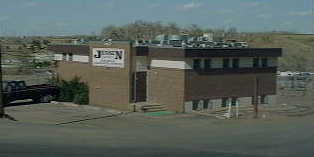 (L) Studios at Grape St & Smith Road (R) Former Studios/Transmitter site/Engineers home
When KDKO began the "Soul" format in 1967, there weren't as many Denver radio stations around, and cable TV was just a rumor at that time. It was easy to get ratings. These days, there are so many radio stations, it's simply no longer profitable for a single owner to have a radio station. (Don't buy one!) That's why the big conglomerates have eight stations under one roof these days. And, getting ratings and support for a station is almost impossible. In it's later years, KDKO had that problem. And, there were management problems -- KDKO was making news such as this:
On 7/17/91 KDKO defaulted on their loan, KHIH held the credit note, and was going to shut down the station on that day. It didn't happen - KDKO managed to stay on the air.
On 9/15/92, the IRS shut down KDKO for failure to pay more than $106,000 in overdue Social security and federal withholding taxes. That shutdown lasted for about a week, if I recall. Also, at about that time, the FCC fined KDKO $10,000 for a transmitter violation, and the station didn't have money to pay it!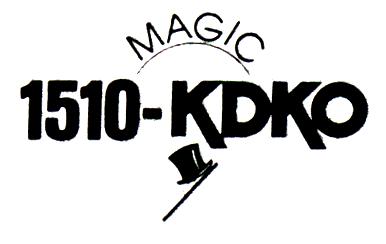 Denver's only black station ended it's broadcasting days in May of 2002. Denver Billionaire Phillip Anschutz bought the station for 2.7 million dollars. KDKO is now KNRC, and is broadcasting 10,000 watts of newstalk radio in new downtown studios. That format started on 6/24/02.
KDKO has been silenced. The Afro-American community of Denver is mourning the loss of their voice. But for now, relive the memories on this website, when Denver had SOULPOWER!
(This was written by Don Mueller, who worked at KDKO as "Don Miller" from 1969 to 1978. Don has been active in other Denver radio and TV broadcasting ventures since.)
Soul Music Gets Area Radio Man Segal 'Involved' In Community
By CLARK SECREST
Denver Post Television-Radio Writer


DAVE SEGAL is an important Denver radio man. You won't hear him on the 10 o'clock news. He doesn't broadcast the Broncos, or play rock 'n' roll records. He isn't the guy on the clock radio when it wakes you up in the morning.
Instead, David M. Segal is a man behind the scenes whose name has probably passed you by many times. Segal has been a factor in the growth of radio broadcasting for nearly 30 years-in Denver and in the United States.
And he's done quite well, thank you, since the times in the early 1950s when Broadcasting magazine called him a "boy wonder."
Today, Segal is the owner of Denver real estate, including two hotel-motels, and of three radio stations, one in Denver, two in Mississippi. He has owned 15 radio stations over the years. At age 48, he prepares to divest himself of his real estate, but vows he will never leave radio. "I love radio. It's been my life." A Canadian by birth, Segal entered broadcasting in 1948. He has owned radio stations all over the country, and was among the big radio station chain owners in the 1950s.
AND THAT'S WHAT BROUGHT Dave Segal here in 1953. He built a station named KOSI, in Aurora, and played something called Top 40, and knocked 'em dead. The public, the competition and the advertisers had never heard anything like it. Segal eventually sold the station, and went on to even bigger things in even bigger markets.
In 1965, Segal entered the Denver area again-where he now lives-and bought a bankrupt radio station, KMOR, Littleton, for 980,000. It was playing middle-of-the-road music. But Dave Segal has always been a specialist. So he changed the call letters to KDKO and told his men to start playing country and western music.
He admits today that if the South Platte River flood of June 1965 hadn't wiped out KDKO only two months later, his powerful country-music competition, Ed after he bought it, his powerful country-music competition, Ed Scott's KLAK, would have.
After the flood, Segal took in some partners, rebuilt KDKO, but began casting about for some new type of programming. Something had to be done; KDKO was running at a loss of thousands of dollars a month.
By April Fool's Day, 1967, Segal had made up his mmd. The only market that wasn't being served was the Negro market. Segal and his partners decided to play music for Denver's 85,000 blacks.
It made money that first day, as it does today. The yearly gross has grown from $58,000 in 1966 to $250,000 in 1971. He pays his staff well, and is pleased that they stick with him. But even better, Dave Segal appears to be a contented man because of KDKO.
"FOR ThE FIRST TIME in 28 years in broadcasting, I can honestly say my station is serving, rather than prostituting, a group of people. Hell, we're the only identity to 85,000 people. Nobody else is doing anything for them not in audio, not in video. Negro people today are proud. They want to have their own music; they want to identify. "They're on our side, and we're on their side. We're the only medium in town that makes a concerted effort to obtain black obituaries. We have to call up the mortuaries and get 'em. It's a lot of trouble, but we feel we should do it."
That's an example of how seriously Segal accepts his commitment to a minority population, in a day when minorities have legitimate complaints that they're being ignored by the electronic media.
Further, Segal has put together a nearly all-black staff. He has five black disc jockeys, two of whom also are salesmen. Only one disc jockey is white, and he also serves as production manager. The program diredtor is black. There is one white salesman. Segal pays considerable money to subscribe to a black radio news service in the east.
"The black in Denver isn't typical," says Segal. "He's not the person that the average white man thinks he is. He's not the person that the average businessman thinks he is. He generally has a good education. He generally lives pretty welL"
SEGAL CONFIDES that he has learned a lot about human nature since his involvement in "soul radio." "I've learned more in the past five years about living with people, about respecting people, than I did in all my previous years in broadcasting." But Segal has been careful in programming his station for the blacks. "You can't lie to them; you can't gimmick them. And you especially can't talk down to them."
Though he programs to but one segment of the community, Segal has never lost track of the big picture. He is a respected authority on Denver broadcasting, and on broadcasting trends.
With the total nearing 30, he sees room for no more AM radio stations in Denver, with perhaps a few more opportunities for FM broadcasters ("FM has finally come into its own"). Still, in the glut of Denver radio stations, some owners are going to have a difficult time.
"Denver radio today is better than it ever was- something for every listener, Its the survival of the fittest, and I think the specialists are always going to come out better than the other guys.
"You've got to specialize. The best example is KLAK-a big, loyal audience of people who like country music. Or KLIR-FM-good, easy listening for years. That shows you what a specialty plus consistency will do or you." Segal's formula has worked well. KDKO, difficult to find among all the other stations near the middle of the dial, enjoys good ratings, often in the top five, according to the American Research Bureau. Segal wants to continue to improve his little soul music station at 1510 on the dial, and to find new ways to serve the blacks. "If you sit still, you're dead," he says. SegaI is careful to not exploit his audience. And he hears few complaints from the people. "That's what kind of worries me. You always hear the bad along with the good. We never hear any bad."
As one KDKO listener said this past week: "David Segal is smart. He knows his radio. It's his station, but we Negroes feel like its ours."

KDKO Airchecks & Such...
King Arthur
December 1971
Don Miller December 1971
Billy Soul December 1971
Dr. Daddy-O December 1971
The Nite Hawk October 1971
Les McCann Interview From 1973. An interview with the Jazz Keyboard/Singer who clearly controlled the interview
The Blooper Reel Not so great moments from Billy Soul, Dr Daddy-O, and others...


Questions? Comments? E-MAIL US!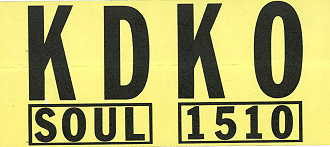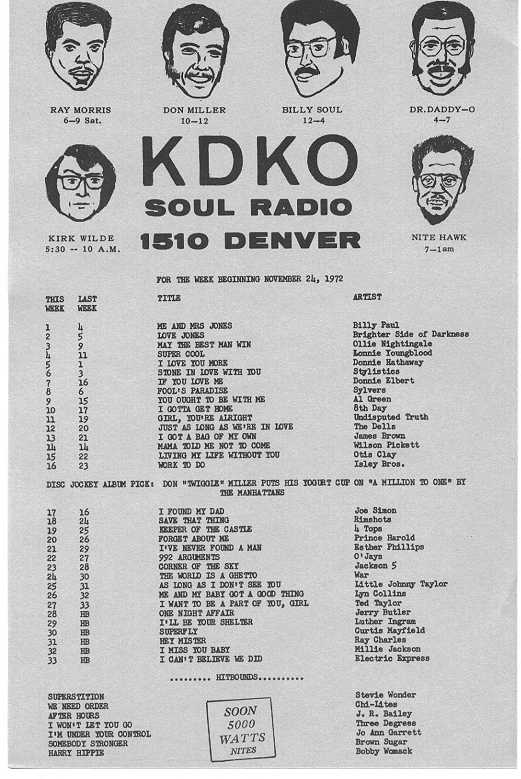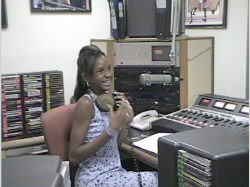 Lindsay "Miss Thang" Walker, circa 2001
---
| | | | |
| --- | --- | --- | --- |
| | | | |
| Dr Daddy-O | Billy Soul | Charles Love | Nite Hawk |
| | | | |
| Dave Roberts | Sandy Scott | Leo Knott | Pepper Martinez |
| | | | |
| Bob Moore | Steve Ross | Don Miller | "Midget" |
| | | | |
| King Arthur | Ray Morris | Bill Renolds | Kirk Wilde |
| | | | |
| Cliff Strong | Ray King | Rick Darnell | Bob Allen |
| | | | |
| Al Killian | Gregg Mitchell | Stan Cook | |

Back to Front Page
---
---
---
---
---